The destination
Biarritz, the destination where life is good. Its slow-life, its beaches, its mythical Palace and the quivering rhythm of its city center make it a unique place in France. Coming to Biarritz is to to take a break. Whatever the reason of the stay, we leave the city refreshed. Every moment of the day, every time of the year, it's a different but still pleasant rhythm of life.

The hotel
The Hotel **** Villa KOEGUI Biarritz is located in a small and quiet street, from 2 minutes of the city center and lively places. Originally two "Biarrot's" houses transformed into a hotel. Today, after refurbishment at the start of 2021 and decoration by Atelier Pascal L., the hotel reopened its doors in April 2021 to the delight of its customers.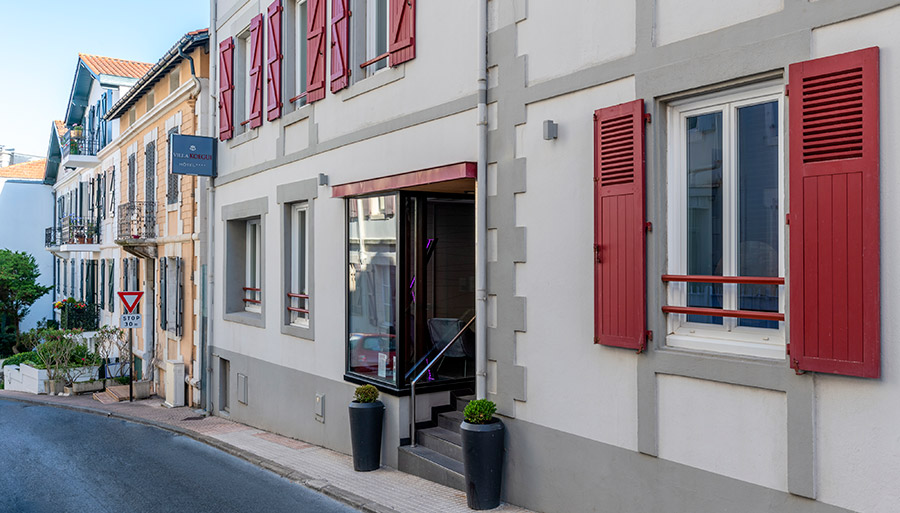 The patio
Nestled at the back of the hotel, the living room opens onto a large patio with trees, flowers and plants. Tables and chairs are arranged around a small fountain and thus offer everyone the opportunity to enjoy this space.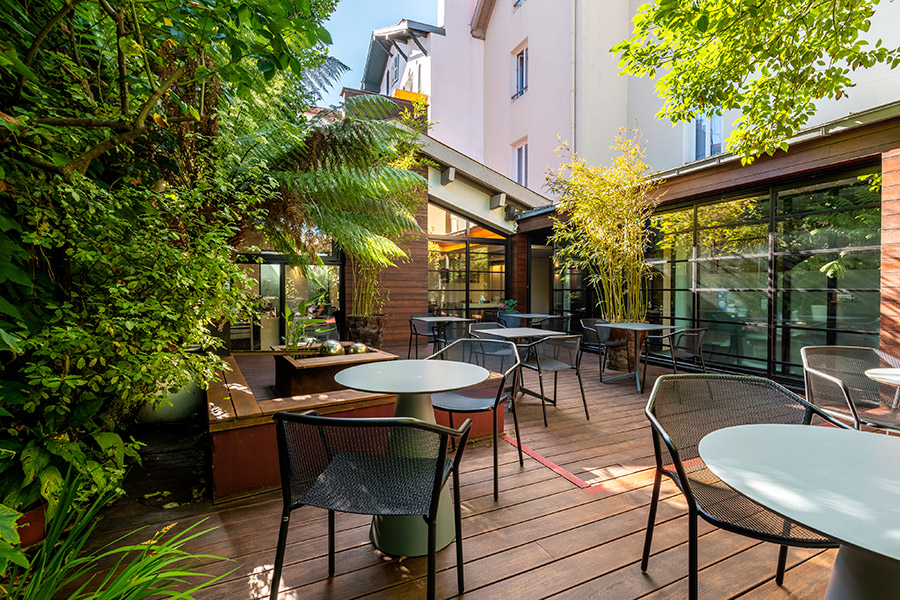 The welcome
A warm welcome, that's also that the Villa KOEGUI. Offer by Amaya, the director, and her team. Warm, smiling and caring, they are at your disposal to answer your requests.
To discover
The city can be discovered on foot, by wandering, by getting lost. From the Lighthouse a spectacular view offers you the coast in 360 °. The Grande Plage and the beach of the Côte des Basques, but also all the small beaches and coves are to be discovered. In terms of gastronomy, Biarritz is full of good and delicious restaurants but also pastry chefs and coffee shops you will have to discover. A shopping break is required between two discovery times: the city offers a range of shops that are worth spending a few minutes there. In the evening let yourself be carried away by the incredible colors of the sunset. Then head for the city center of Biarritz to end your wonderful day.
Around Biarritz, discover the villages along the coast: from Bidart to Guéthary, the charm is very present. Let yourself be carried to Saint Jean de Luz then Hendaye and Ciboure. The North Basque Country is close at hand and waiting for you: Espelette, Sarre, Ainhoa, Saint Jean Pied de Port, Cambo Les Bains, Itxassou, La Bastide Clairence, Bayonne ...